Memorials
The Long Range Desert Group Memorials
The Long Range Desert Group and the Special Air Service came together as David Stirling and David Lloyd Owen envisaged when the LRDG joined the SAS Regimental Association in 2000.
The Association is responsible for memorials and their maintenance. When it became known that the LRDG had no suitable memorial in the United Kingdom, it was determined to rectify this, preferably with the LRDG going in alongside their friends and comrades in the SAS.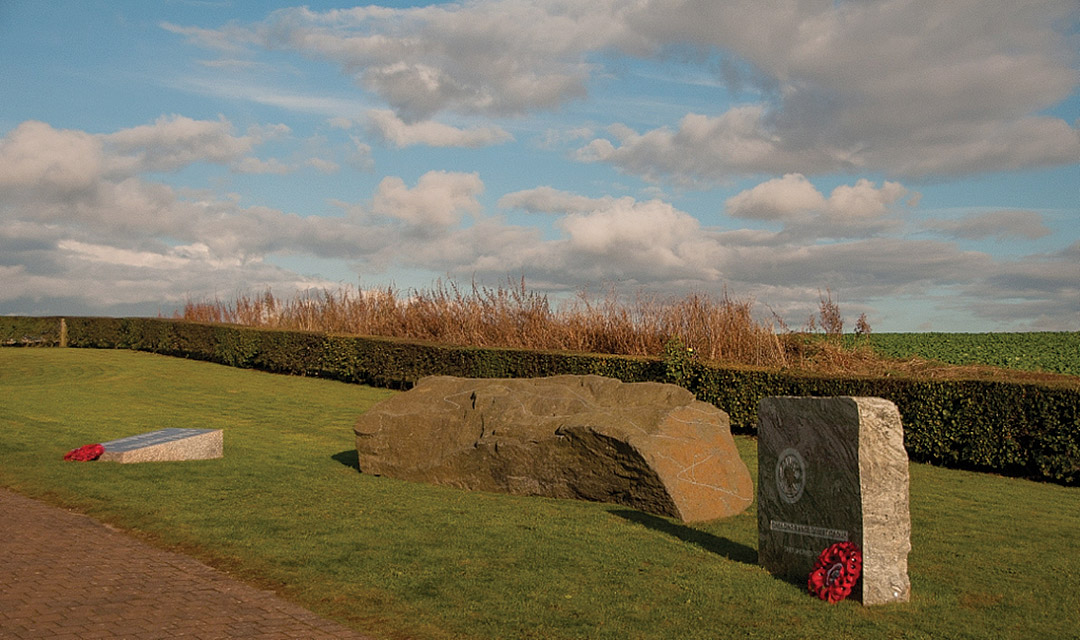 First, a memorial stone was added to the national, World War II Special Forces monument in the Cloisters of Westminster Abbey, the LRDG taking their place with the Submarine Service of the Royal Navy, Commando Forces, Airborne Forces and the Special Air Service.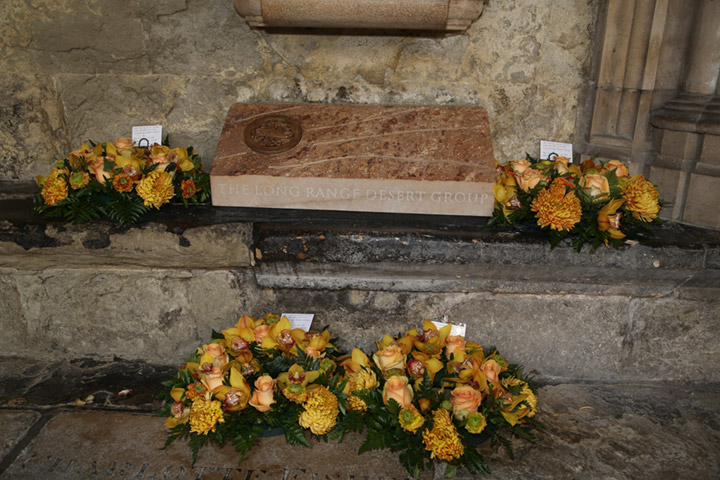 LRDG Memorial, Westminster Abbey.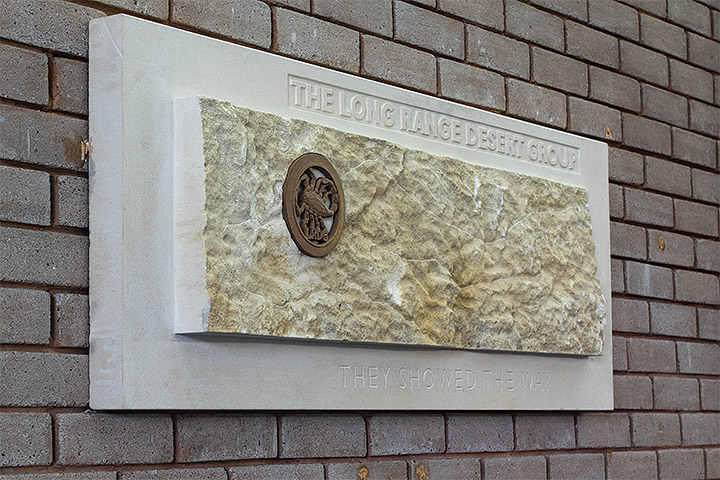 LRDG memorial St Christopher's chapel, Hereford
The SAS memorial at Doune is where the SAS and LRDG come together closely, where each can acknowledge and celebrate the other, noting in particular the deeds and sacrifices of the Second World War. It is a quiet place of elemental beauty, where the bonds of friendship and comradeship show with intimacy.
The second LRDG memorial is of three elements, a main, recumbent stone and two flanking stones. The recumbent stone is of Scottish Whin. Like its counterpart in Westminster, it evokes the desert, with lines cut to suggest LRDG vehicle tracks. It might be noted that nearby there are ancient standing stones; the recumbent stone seeks to echo these, so binding all at Doune further to the complexities of time. The first flanking stone is of grey/green gneiss, similar to stone found in Lewis; it bears the inscription to the LRDG. The second flanking stone is of Aberdeenshire Corrennie granite; it bears the names of the LRDG's fallen.
The first signature stone, in addition to carrying the badge of the LRDG, bears the words "They Showed The Way". This refers to the LRDG's provenance and their vital role as advance forces to the 8th Army and British forces deployed in the Western Desert. It also refers to the part they played in the early days of the SAS, a part that enabled the SAS quickly to become established and to go on to become what it is today. The SAS takes much pride in acknowledging this, and in this way, and at Doune, the place where David, their founder, grew to manhood. This Memorial was dedicated on 11th October 2014.