Memorials
Hereford Cathedral
Ascension
A major new internationally important artwork, dedicated to the Special Air Service and funded through donations by the Special Air Service Regimental Association has been installed in Hereford Cathedral. In the form of a magnificent sculpture and stained glass window and was completed in April 2017.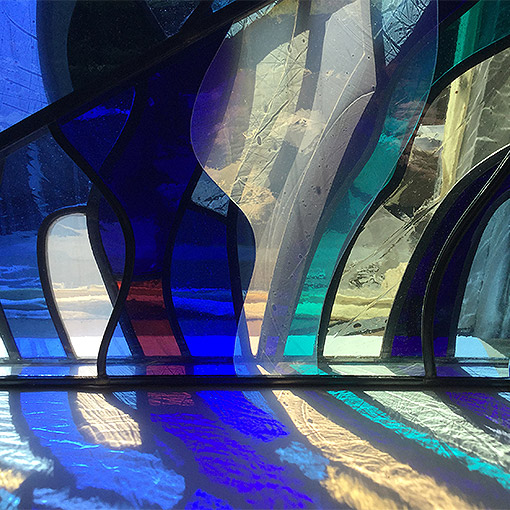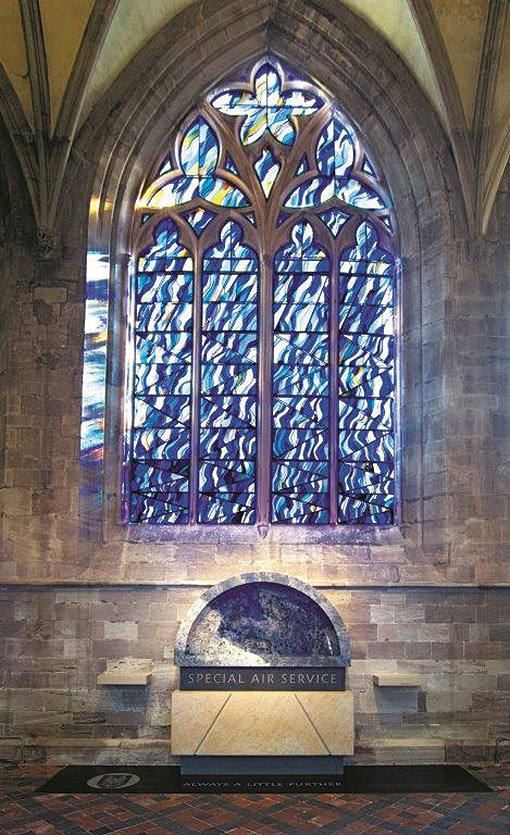 The Special Air Service has a unique relationship with Hereford Cathedral at the heart of the city, county and diocese. Most communities in Herefordshire have links with the Regiment, through families and friends or by supporting its members and its work. To honour and celebrate this relationship, the SAS Regimental Association commissioned the internationally-renowned artist John Maine RA to create a new sculpture and stained-glass window for the cathedral to mark the seventy-fifth anniversary of the foundation of the SAS in 1941.
John Maine comments: 'With the window I wanted fluid movement, flexible but structured: with the stone, a sense of calm, stability and otherness. When you look into its depths you are no longer in the normal world. It has a distant feel.'
He has entitled this work 'Ascension' to suggest a focus for many different responses. We first engage at eye level with the stone sculpture. A sequence of contrasting stones support the polished blue apse where we may gather our thoughts. Looking up, we scan the window, starting with the deep blue shadows of the lower panels, and rising towards yellow and amber glass in the tracery; a journey from darkness into the realms of light. When the viewer walks along the aisle the double-skinned parallax glazing creates kaleidoscopic patterns and shifting waves of light, with three thousand pieces of glass in forty different colours. As the sun moves across the sky, varying in scope and intensity, depending on the time of day and the season of the year, the window appears to change.
The sculpture is formed of different stones from across the world. The ledger stones at the foot of the monument are black marble from a mine near Mons in Belgium. Three of the other stones are from Scotland. The Dolerite base was quarried near Stirling, and the large sandstone recumbent is from Clashach, near Elgin. The SAS inscription is cut in Caithness slate. The beautiful blue apse is carved from a type of granite called Syenite from Brazil.
The design of the window began as a series of small colour sketches and experiments with glass. John Maine then travelled to the Derix Glass Studio near Frankfurt to develop the work on a larger scale, and brought back full-size samples. He made actual size drawings of each panel and worked closely with skilled assistants at the glass studios to produce the windows, setting up panels for inspection against the light, as the work progressed. Later a small team drove to Hereford to install the window, working from outside and within the cathedral.