Memorials
Special Air Service Regiment Memorial
(The SAS Brigade Memorial Sennecey-Le-Grand)
Apart from the war graves and numerous local plaques and inscriptions there are two major Special Air Service Regiment Memorials in France.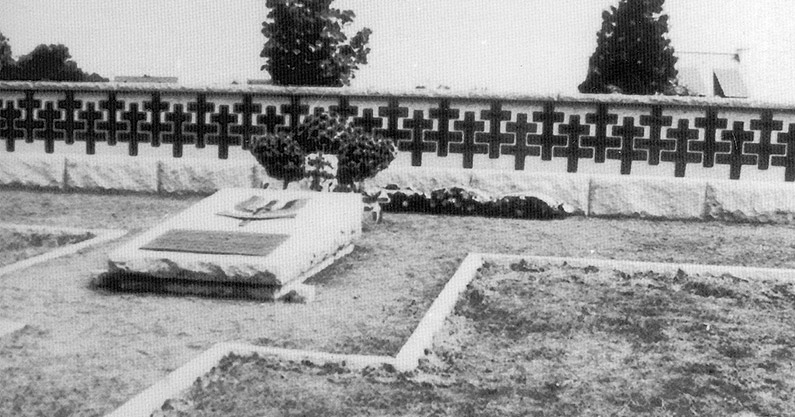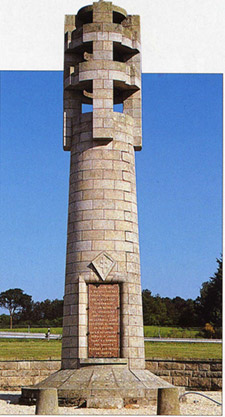 One is at Plumelec and St. Marcel in Brittany and commemorates the dead of the two French SAS Regiments resulting from their major actions in Brittany. It is located at the spot where the first land death of Operation OVERLORD occurred, a Corporal from 4 SAS, who was killed during the night of D-Day minus 1.
The other Memorial is at Sennecey-le-Grand in the French Department of Saone et Loire in Southern Burgundy. The town was the site of a major action by soldiers from 3 SAS, the other French Regiment, and it was originally intended that this memorial would commemorate just this action. However, discussions involving French SAS Veterans, the late Andre Jarrot (A French Cabinet Minister; one of the most successful French Resistance leaders based in London and holder of the British DCM and MM as well as a string of other decorations for valour) and the late David Stirling led to the following decision. Firstly the idea of it being a French National Memorial to the two original French Squadrons and the later Regiments and then that it be a Memorial to the three Nations Special Air Service Brigade of 1943-45 and finally to a full World War II memorial to the campaigns, actions and dead of all units of the Special Air Service Regiment and its associated offsprings.
The Memorial, known as the Brigade Memorial, was designed by Jean Melinand, himself a veteran of 3 SAS and it was inaugurated in 1988 by Francois Leotard, the then French Minister of Defence together with David Stirling, the Earl Jellicoe, Viscount Slim and Mary Churchill. It was subsequently realised that due to the loss of much of the Regiment's records some names had been omitted and an extensive research programme was initiated to identify all who had served with the Regiment and had been killed in action. As a result a further 90 British names and 6 French names were added to the original Belgian, British and French names at a ceremony in 2002.
It is believed that this is the only full World War II Memorial to a British Regiment and the war dead from all its component parts that is located outside of the United Kingdom. The ceremonies in 2004 will be the last major reunion of the World War II veterans owing to advancing age. In future, 4 September will be an opportunity for an informal reunion of the remaining veterans and a wreath laying by representatives from the successor Regiments from all three Countries.